Learn Hebrew Today!
Hebrew Lesson 1
Introduction

Listen Now

Download
(Right Click, Save As)

Lesson Guide
(Try for Free)

Watch Video
(Members only)

Flash Cards
(Try for Free)
ספורט מים
sport ma-yim
Water Sports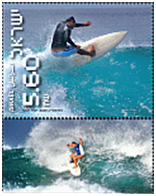 Water Polo
sah-kan ka-door ma-yim
שחקן כדור מים
Player, שחקן, sahkan. Goal, שער, shaar. Half distance line, קו האמצע, kav haemtsa. Ball, כדור, kadoor. Referee, שופט, shofet. Cap, כובע, kova. Swim suit, בגד ים, beged yam.

Surfing
gli-sha
גלישה
Surfboard, גלשן, galshan. Surfer, גולש, golesh. Waves, גלים, galim.

Diving
kfi-tsa la-ma-yim
קפיצה למים
Diver, קופץ, kofets. Platform, רובד קפיצה, roved kfitsa. Springboard, מקפצה, makpetsa. Diving bell, בריכת צלילה, breihat tslila. Bottom of the pool, קרקעית הבריכה, karkaeet habreyha. Surface of the water, פני הבריכה, pney habreyha.

Skin Diving / Scuba Diving
tsli-la
צלילה
Scuba diver, tsolelan (m.). tsolelanit (fem.). tsolelanim (male pl.). tsolelaniyot (fem. pl.). Wet suit, חליפת צלילה, halifat tslila. Fins, סנפירים, snapirim. Snorkel, שנורקל, snorkel. Depth gauge, מד עומק, mad omek. Compressed air tanks, מכלי אוויר דחוס, mehaley avir dahoos. Flashlight, פנס, panas. Scuba goggles, מסיכת צלילה, masehat tslila.

Sailing
shi-yoot
שיוט
Sailboat, סירת מפרש, sirat mifras. Mast, תורן, toren. Sail, מפרש, mifras. Cockpit, תא הנווט, ta hanavat. Tiller, הגה, hege. Bow, חרטום, hartom.
Water Skiing
ski ma-yim
סקי מים
Ski, מגלש, miglash. Handle, מאחז, maahaz. Towrope, חבל, hevel.
Fishing
da-yig
דייג
Fisherman, דיג, dayag. Fishing rod, חכה, haka. Fishhook, קרס חכה, keres haka. Float, מצוף, matsof. Lures, פתיונות, pityonot.

Swimming
shi-ya
שחייה
Swimmer, sahyan, שחיין (m.). sahyanit, שחיינית (fem.). Start, זינוק, zinook. Kick, בעיטה, beeeta. Inhale, שאיפת אוויר, sheeefat avir. Exhale, נשיפת אוויר, neshifat avir. Flip, פניית גלגול, pniyat gilgool. Swimming competition, תחרות שחייה, taharoot shiya. Pool, בריכה, breyha.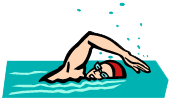 Crawl stroke
shi-yat ha-ti-ra
שחיית חתירה
Crawl swimmer, שחיין חתירה (m.), sahyan hatira. sahyanit hatira, שחיינית חתירה (fem.).

Backstroke
shi-yat gav
שחיית גב
Backstroke swimmer, sahyan gav, שחיין גב (m.). sahyanit gav, שחיינית גב (fem.).

Butterfly stroke
shi-yat par-par
שחיית פרפר
Butterfly swimmer, sahyan parpar, שחיין פרפר (m.). sahyanit parpar, שחיינית פרפר (fem.).

Breaststroke
shi-yat ha-ze
שחיית חזה
Breaststroke swimmer, sahyan haze, שחיין חזה (m.). sahyanit haze, שחיינית חזה (fem.).